Monday, November 21, 2011
I've recently decided to dive into food photography. I love finding new aspects of photography to concentrate on and right now, its food! And the thing I have the most difficulty with I think is styling. Here are some apple tarts I made recently.




I've shown you my set-ups in past posts, like here, and I think I've got the lighting down pretty good. I like using natural light from my window, and bouncing it off a reflector. What I really struggle with though is styling.



Tips in styling I've learned so far: Use an ingredient in your final dish to help style, in this case, the apples. Try using opposite colors in your dishes or linens to help your food pop. The final dish was sorta orange-ish so I went with a blue table cloth, but I think the blue color was too pale to do much difference. I think I darker blue might've been nice.
Things I need to learn: placement of props, what dishes to use, how to move props around to make each shot look different, how to "tell a story" with my food photography, and really invite people in with my pictures, and how to make the dishes look beautiful, yet also look like they really might've just been on the table like that!
Any suggestions would be more than helpful!
Any photo tips you'd like to share?
Also, if you have any questions, or anything you'd like to see featured on Photo Tip Tuesday, please let me know in the comments! If I don't know the answer, I'll do my best to find out and write about it!
Before I forget, here are my favorite entries from last week:
Feel free to grab a button: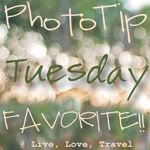 And now on to this weeks link up...if you don't have a photo tip to share, you can simply share what lens you used, what your settings were, or a step you took to edit the photo. (I'm not very picky!)